1 school produced NFL's top 2 punters

by Rick Cleveland
Jackson Clarion-Ledger
April 17, 2005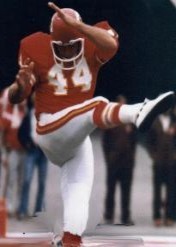 In Kansas City where he became famous, Jerrel Wilson was known both as "Thunderfoot" and "Duck." But what you should know, first and foremost about Jerrel Wilson is this: He was Ray Guy before Ray Guy.
Wilson died after a long bout with cancer last weekend in Texas where he lived his later years, if you can call them that. He was only 63.
Lenny Dawson, the Super Bowl quarterback-turned- announcer used to say that Wilson kicked footballs so hard, he fully expected one to explode.
Dawson and other Chiefs called Wilson "Duck," short for Daffy Duck.
"When Duck really hit one, it went so high and so far it was unreal," says Jackson's own Noland "Super Gnat" Smith, a teammate of Wilson's with the Chiefs. "Duck was a character, one of the all-time characters. And, man, could he punt a football."
Amazingly, Wilson and Guy, the two men many consider the greatest punters in NFL history, both played at Southern Miss. Both were splendid all-around athletes, who played other positions and excelled at other sports.
Both were integral parts of Super Bowl championship teams. Both played for teams that were keenly aware of a great punter's value in field-position football.
Their careers overlapped. Wilson was toward the end of his 15-year career when Guy became the first punter ever selected in the first round of the NFL draft in 1973.
Check record book
Guy, not Wilson, was selected to the all-time NFL all-star team - a fact that might have grated at least a bit on Wilson.
Says Noland Smith,"We were in Kansas City for a reunion one time when people were talking about Guy being the greatest punter of all-time, Duck says to me, 'Somebody ought to look at the record books.'"
If you look, here's what you will find: Wilson averaged 43.4 yards per punt over 15 NFL seasons. Guy's average was 42.4 over 14 seasons. Wilson, not Guy, has the highest career punting average in Super Bowl history - 46.5 per punt for 11 punts in three different Super Bowls.
"Jerrel was strong as a bull," says Vic Purvis, a teammate of Wilson's at Southern Miss. "He came to USM after two years at Pearl River (Community College), and he came in as a linebacker, punter and placekicker. He was such a great athlete, they moved him to fullback. He could have played anything."
Purvis, now the color analyst for USM's football radio network, watched both Guy and Wilson kick. Their styles, Purvis says, were quite different; the results, quite the same.
"Ray was much more limber," Purvis says. "When Ray punted, his foot would be above his head on the follow-through. Jerrel's leg swing was much shorter. He was all about power. He attacked the ball. My God, he was strong."
Little red Corvette
Both Purvis and Smith describe Wilson as a fun-loving, carefree guy who often lived life as hard as he punted a football.
"I'll never forget when he showed up at school in a red, souped-up Corvette convertible," Purvis says. "Man, it was a pretty car, and most of us had never seen anything like it. I told him, 'Jerrel, man, I'd love to go for a ride in that car.'"
Wilson told him to get in. They pulled up at a stoplight on Highway 49, near the entrance to USM. Wilson revved the engine.
"You hear that?" he said to Purvis, as if something wasn't right.
Purvis said no.
Wilson revved the engine several more times, leaning forward as if to hear more closely. Then, Purvis leaned forward.
And then, Wilson floored it.
"I almost flew out of the car," Purvis says. "I look at Jerrel and he's laughing like a maniac. I look down at the speedometer and we're going 140 in no time. I said a prayer to myself, 'Lord, if you'll let me get out of this car in one piece, I'll never get back in it as long as I live."
Purvis laughs as he tells another one on Wilson, this one from a practice.
"Coach (Pie) Vann was a stickler for detail in the kicking game," Purvis says. "The punter always shouted the direction or length of the punt so his teammates wouldn't have to look for the ball. So Jerrel hits one from his own 10 and I mean he really hits it and, he yells, 'Short!'
"So all these guys are running in place, waiting for the ball to land, about the time the ball rolls out of the other end zone.
"I was standing by Coach Vann, and he says, 'Purvis, what am I supposed to say when a guy punts like that and then pulls that stunt?' I said I don't think I'd say anything, and he didn't."
A few years ago, both Wilson and Smith were named to the all-time Kansas City Chiefs team, Wilson as the punter, Smith as the kick return specialist.
"Everybody flew in for the clebration but Duck," Smith says. "He drove all he way from south Texas, and I asked him why."
He said, "Noland, when I played my last game with the Chiefs, I got off that airplane, got down on my knees, kissed the ground and thanked the Lord and said I'd never get back on another plane, and I haven't."
Wilson would drive a car - or a powerful bass boat - as fast as it would go, loving every second of it. Yet he feared planes.
"That was just Duck," Smith says as if no other explanation is necessary.
Jerrell Wilson photo from SportsEncyclopedia.com