USM Needs City to Care as Much as a Stranger

by Rick Cleveland
Jackson Clarion-Ledger
November 6, 2004
You probably saw the news from Hattiesburg earlier this week. The citizenry there voted down a 1-percent restaurant/hotel tax that would have helped fund improvements to Southern Miss athletic facilities.
Upon hearing the news, I wondered what John Austin Dickey would think were he still alive. We'll get to Mr. Dickey in a moment.
First this: Rejection of the bond issue was in keeping with a long tradition of non-support from a city that thrives off the university. USM, far and away the largest economic provider for Hattiesburg and the Pine Belt Region, long has been taken for granted, almost as if it were an unwanted stepchild out there on the western end of Hardy Street.
USM plays another home game today. Thousands of visitors will pour into Hattiesburg, eat at Hub City restaurants, stay at motels, buy gas and spend money.
Yes, and in pre-game ceremonies, a presentation will be made to the family of John Austin Dickey. His story is one worth re-telling, especially given what happened earlier this week.
One day back in '58...
Let's go back to Thanksgiving, 1958. USM, then Mississippi Southern College, played the University of Chattanooga Moccasins at Chattanooga.
It was a huge game. Southern was undefeated and ranked No. 1 in the national small college poll, having slammed major college teams North Carolina State (26-14) and Virginia Tech (41-0) on consecutive weekends. Chattanooga, which had defeated Tennessee (14-6), was ranked No. 6 in the same poll.
It was Southern's final game. A victory would mean a perfect season, the first in school history. John Austin Dickey, a 16-year-old who lived in Chattanooga, was there, presumably to cheer for the hometown Moccasins. He wound up in awe of the visiting Southerners.
Late in the game, the Southerners desperately clung to a 20-13 lead. When Chattanooga recovered a fumble at the Southern 1-yard line, the perfect season was much in jeopardy.
On four straight downs, Chattanooga pounded the ball into the Southern line. Four straight downs, Southern's line held, preserving the victory, a perfect season and a first-ever small college national championship.
Young John Austin Dickey was blown away by the visitors' grit. "He loved that team from the time he saw them," said his sister, Helene Dickey Champlin of Athens, Ga. "He thought they were so gutsy."
Dickey's love for USM football would last his lifetime. He kept up mostly in newspapers. When the Golden Eagles began to play TV games, he always watched. Dickey was not a wealthy man. He worked in the shipping division of a pharmaceutical company. He lived in an apartment. He did not own a car.
Family members say he saved every spare nickel and dime and put it away into savings or bonds. Dickey died last year, willing his life's savings of approximately $180,000 to USM to fund football scholarships.
John Perkins, now 70 and living in Milledgeville, Ga., was one of the anchors of that USM line that preserved the victory over Chattanooga and the undefeated season. He says he and his teammates were stunned when they learned of Dickey's gift.
"I'm gonna tell you, words can't explain how much it means to those of us still living," Perkins said. "To think we had that kind of impact on somebody and to think that someone would save for a lifetime because of it. You could understand it better if he had been from Hattiesburg, but this was a guy in Chattanooga who saw us one time. It's just, well, it's just unbelievable."
It surely is.
Such a contrast
Now then, contrast John Austin Dickey's generosity with this: The Hattiesburg bond issue that failed last Tuesday would have added an extra nickel to the cost of a Big Mac value meal.
Dickey never benefited, not even a copper penny, from USM.
How many in Hattiesburg can say the same?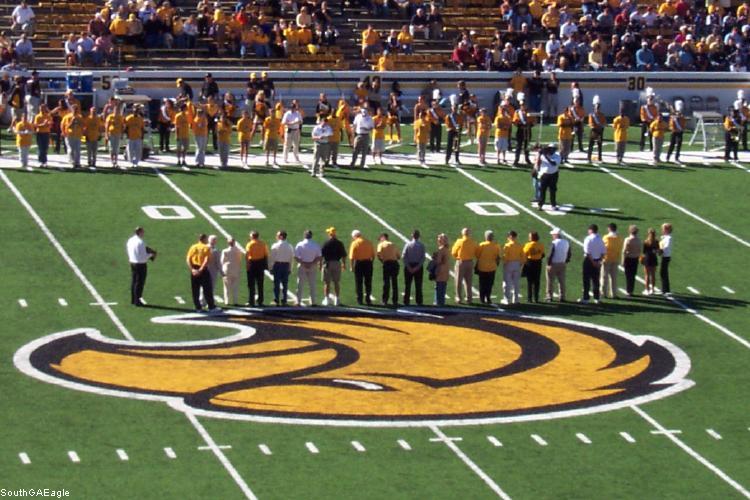 Major donors were honored before the Southern Miss vs. Cincinnati game, November 6, 2004. John Austin Dickey's relatives (left) were given a 1958 team photo and John was named an honorary member of the 1958 team.